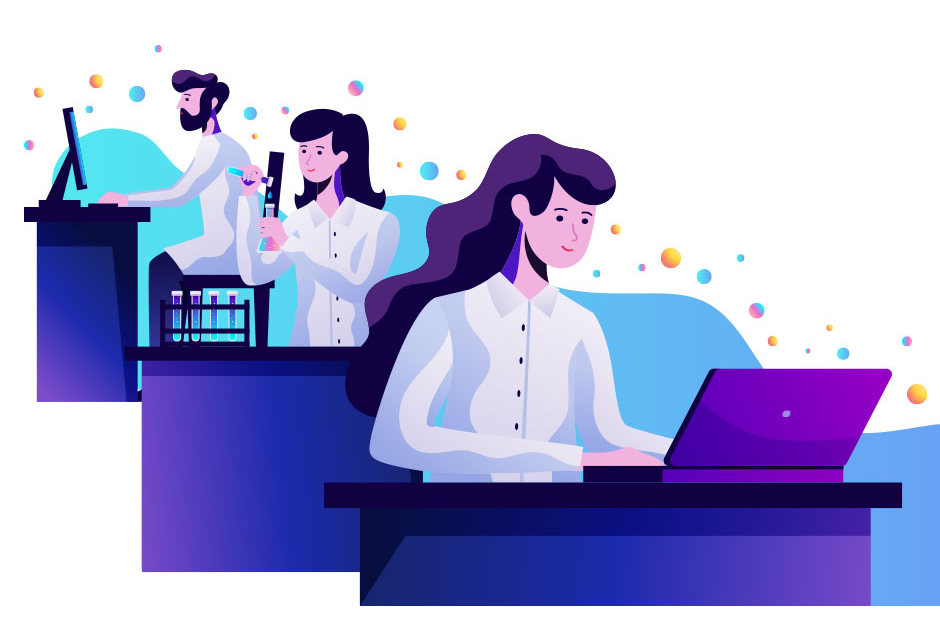 What does a clinical scientist do?
A clinical scientist is a medical and healthcare professional who supports other clinical staff in their work with patients. Their work is very broad and can include laboratory and testing work, research and management.
There are many different areas of clinical science that you can choose to specialize in, which include:
Biochemistry – analysing body fluid samples taken from patients (such as blood and urine) to diagnose, treat and manage diseases
Immunology – developing new tests and treatments to aid manipulation of the immune system in order to treat conditions
Microbiology – identifying bacterial, fungal and viral infections in patients
Genomics – analysing samples to identify alterations in genes and predict whether other family members or future generations are likely to inherit an abnormality or are at risk
Job description
As a result of the wide-ranging specialisms, exact responsibilities will vary. However, a clinical scientist will generally be involved with:
Plan and organise work in laboratories to carry out analysis of patient samples
Work closely with doctors and other medical professionals to study and interpret test results and clinical data in order to provide diagnosis or suggest new treatments
Research, develop and test new methods of diagnosis
Review, support the creation of and maintain patient care protocols as well as review and support the creation of regulatory documents
Write reports on findings and future recommendations
Types of employers
Clinical scientists can be employed at:
Pharmaceutical organisations
Hospitals
Biotechnology companies
Healthcare companies
Medical Device companies
To find out who's hiring right now, search our latest clinical scientist jobs here.
Qualifications and experience required
To become a clinical scientist, you will need a degree in a subject relevant to your chosen specialism, such as biochemistry, microbiology, biomedical science, genetics or biology. It is likely that you will need to achieve a minimum of a 2:1 to be considered by most organisations for vacancies. Depending on the type of company you are aiming to work for (like pharmaceutical and biotechnology organisations) you may also be required to hold a postgraduate qualification of a PhD or MD.
In terms of experience, employers are likely to value candidates with prior experience either within a hospital or pharmaceutical/biotechnology company. It may be possible to undertake a placement year as part of an undergraduate degree, or secure a summer work placement shadowing professionals.
Alternatively, if you would like to work within a hospital environment in the UK, you will need to undertake the NHS Scientist Training Programme (STP) which is a three-year, full-time learning programme that includes academic study at Master's level. Over the duration of the course, you will be employed by an NHS Trust as a paid trainee clinical scientist to gain experience in your chosen specialism. The STP is highly competitive, therefore it is useful to have some prior familiarity with clinics to show your interest and dedication to the career path.
Download CV and cover letter templates here.
How to become a clinical scientist
You will need to have a number of skills to be successful as a clinical scientist, including:
Problem-solving skills
Project management skills
Communication skills, both written and verbal
The ability to work well under pressure
The ability to work independently as well as within a team
Good IT skills
Observational and analytical skills, and attention to detail
Laboratory skills
In an interview for a clinical scientist job, you are likely to be asked questions that explore your understanding and knowledge of the chosen specialism and your competency with laboratory or research techniques. An employer may also want to know about your problem-solving and project management abilities as roles are highly analytical and require attention to detail. You should always aim to use the STAR technique when answering interview questions to ensure that you effectively explain your achievements. Find more interview advice here.
There are a variety of ways to find clinical scientist roles, depending on the type of company you are aiming to work for. Job websites such as Pharmiweb and Emed are a great place to start, as well as clinical publications and hospital websites. You may also find opportunities listed on professional networking sites such as LinkedIn. Specialist recruitment agencies, like CK Clinical, are another effective way to search for jobs, as they are able to offer tailored support and advice.
Sign up to CK+ to apply for vacancies at the click of a button and receive job alerts here.
Salary expectations
Trainee clinical scientists working under the NHS Scientist Training Programme are usually employed at Band 6, which starts at £31,365. Once qualified, you are then likely to be employed onto Band 7 which can be up to £44,503. With experience, you will then work up through the bands as you progress into more senior roles.
Clinical scientist positions in other types of organisation such as pharmaceutical and biotechnology companies may pay higher salaries, although this will depend on the specific employer and location of the job.
Career path and progression
Within the NHS, career progression is structured and you can progress through the grades by gaining experience and undertaking extra training. As your career develops, you may be able to take on more responsibility and make bigger contributions to your field of expertise. This may involve becoming head of a department or moving into other specialisms.
Outside of hospital environments, you may able to progress into more research based roles or become a senior clinical scientist. Development is likely to be dependent on your qualifications.
Related jobs
Clinical Research Associate (CRA) – plans, prepares and carries out clinical trials in order to test new or existing drugs and assess their safety and benefits of use.
Pharmacovigilance – also known as drug safety, is the science relating to collecting, detecting, assessing, monitoring and preventing adverse effects of pharmaceutical products, allowing us to understand more about their benefits and risks.
Clinical Data Manager – responsible for ensuring that statistical information and results from clinical trials are recorded and reported accurately, both during and after they are complete.
Search clinical scientist jobs