Are you about to graduate from university with a Chemistry degree, but unsure about what to do next?
At CK Science we understand how difficult it is to get your head around all the different Chemistry degree jobs. To help you get inspired, we have asked a variety of professionals in the chemistry field to describe their roles, their experience and how they got to where they are now.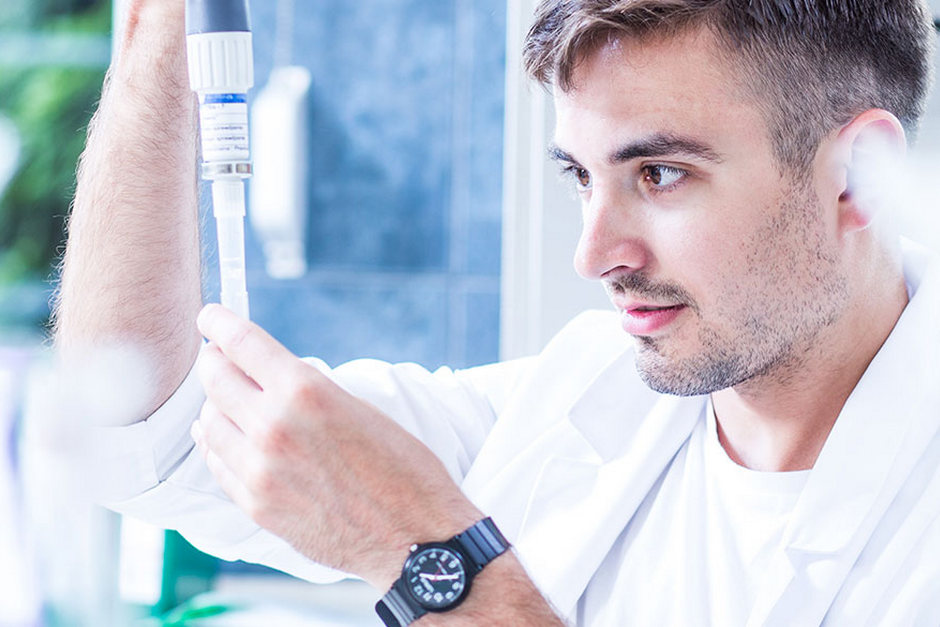 A Research and Development Chemist
A R&D Chemist will typically work on multiple projects at once, and is the ideal role for someone looking for variety in their day-to-day life. It would particularly suit someone who is practical and enjoys problem solving.
To find out more, we interviewed a R&D Chemist working on the development of new products for a chemical company. On a daily basis they develop formulations in the lab, carry out testing and produce reports on the evidence to develop practical applications for the materials. Once suitable systems are found the process is scaled up to a production trial. The job also involves liaising with customers and suppliers, to understand their different requirements.
Other responsibilities as a R&D Chemist include operating complex instrumentation, developing innovative methods to improve existing products, carrying out fieldwork and working within strict health and safety guidelines. Therefore, skills in problem solving, project management and communication are needed.
Prior to becoming an R&D chemist, this expert completed a PhD in organic chemistry. Their advice to anyone looking to pursue a career in R&D is to gain as much hands-on experience as possible, either through work placements, industrial internships, or through summer work.
Search our research and development jobs
An Analytical Chemist
Another career path for chemistry graduates is a role as an Analytical Chemist.
Jacob is an Analytical Chemist for a company who creates gardening and hydroponic growing products. He is responsible for testing products, raw materials and intermediates to find out their chemical composition and then advises if adjustments are required to be able to report on the quality or stability of the substance. He explains that the job requires you to be patient, calm and hard working.
A typical day can vary based on the setting, but as an Analytical Chemist you will typically be using analytical techniques such as electrochromatoraphy, HPLC and ion chromatography; validate methods and equipment; interpret data that meets strict documentation guidelines and develop techniques for the analysis of different drugs. You will therefore need to be skilled in presentations, data analysis and team working.
If you love pure chemistry, then this could be the right career path for you.
Search our analytical chemistry jobs
A Laboratory Analyst
Chemistry is also a way into the pharmaceutical industry. Anthony is a Lab Analyst, working for a pharmaceutical company that develops vaccines and healthcare products.
He is responsible for conducting all quality testing on products, writing up data and reporting the results. These results are then used to determine the quality of the product, and make decisions on whether the product is deemed safe to be used by patients. Daily duties can vary depending on the specific role but typically include maintain laboratory testing equipment for consistency and quality, develop new technologies and monitor the progress of a number of experiments for important findings.
Anthony finds his job particularly satisfying, knowing that he is contributing to helping people's quality of life.
To apply to this type of job, you would be expected to have a chemistry qualification as well as specific experience in the use and maintenance of HPLC systems. Anthony gained his qualification and relevant experience through an Apprenticeship scheme, proving that the typical university route is not the only way to a successful job in chemistry. You may also be required to have skills in attention to detail, time management and written and oral communication.
Search our laboratory analyst roles
R&D Food Technologist
Interested in Biochemistry? Amanda is a R&D Food Technologist, working in a lab developing and producing an extensive range of high-quality ingredients for the world's food and pharmaceutical industries. A typical day may also involve modifying foods, or finding ways to modify foods, to create new and innovative products that meet specific requirements and production regulations. Working closely with quality control technicians is important in this role to understand which products will pass and fail inspections.
Food technologists are responsible for researching consumer markets and technologies to create new concepts, preparing product costings to ensure profitability and conducting experiments on sample products to continually find improvements. As a result, this career requires workers to have excellent attention to detail, leadership qualities and an awareness of consumer and commercial markets.
Prior to working as a Food Technologist, Amanda completed a BSc in Biochemistry and worked as a Lab Analyst, and says this role is a good combination of lab work and administration, and would suit someone willing to learn new things.
Search our food technologist roles
Compound Development Technician
Compound Development Technicians work directly with production and QC teams to implement new materials and product formulations. They are also responsible for matching products to specific customer requirements, which can have a real impact on the company's successes. Day-to-day, this role involves focusing on projects that are driven towards product development, cost reduction and process improvement. They also perform comprehensive analyses of existing and developing formations.
To be successful in this role, it is important to maintain a solid knowledge of the basic principles of materials science and chemistry, always keep up to date with the latest developments and goings on in your chosen field and try to specialise in an area that you are particularly interested in.
This type of role is ideal for someone with a Chemistry degree as well as an interest in material science and technology.
Search development technician jobs
You may also like to read:
New graduates: how to stand out from the crowd
Create the perfect job seekers LinkedIn profile