We are proud to have recently sponsored the Royal Society of Chemistry's Pay and Reward Report for 2021. which surveyed almost 4300 chemists across the UK.
The report aims to build a picture of the employment landscape – including salaries, job security, skills and employee needs – and is a highly valuable resource for those working within the profession. Not only does it provide benchmarking data for individuals, employers and recruiters, it also provides vital information for driving positive change within the chemical sciences and beyond.
What does the report reveal?
Median salary has increased across the industry
Those in the chemical sciences landscape are earning a median salary of £46,500 – which is 3.5% higher than the median salary of 2019's report, and in line with the UK rate of inflation.
The highest paying sectors include industrial/commercial, the public sector and consulting practices; with general management, sales and marketing, and quality assurance/control roles earning the most.
Motivations for working in chemical sciences
The top motivator for those working in the chemical sciences is being passionate about what they do, followed by being able to do work that has a positive impact on society.
Healthy work-life balance is also a key motivator, with the survey seeing a significant jump in the number of respondents indicating that flexible working is offered by their employer. This may be as a result of the Covid-19 pandemic increasing the need for remote working.
Employee retention and development
The majority of survey respondents indicated that they expected to stay with their current employer over the next 12 months. The top reasons for choosing to progress with a current employer include taking on more responsibility, career advancement and personal development – although the vast majority say that they experience one or more barriers to obtaining the skills they need to develop their career. Lack of time appears to be the biggest challenge, suggesting that companies could do more to prioritise training and learning opportunities for their staff.
On the other hand, those looking to move employers in the next 12 months indicated change of location, more job security and better management as their top reasons.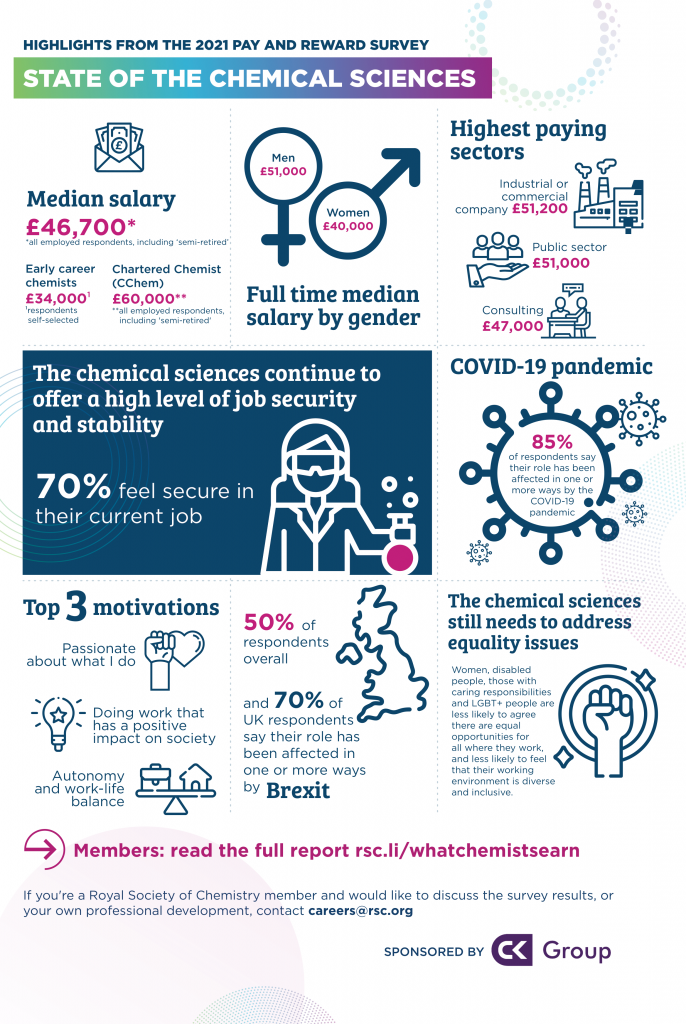 The report highlights the work that is still to be done in the chemical sciences landscape in order to achieve equality and create a fairer working culture.
Royal Society of Chemistry members can download the report for free here.