LONDON, UK. (01 May 2018) – CK Group was recently recognised by KellyOCG®, the outsourcing and consulting group of Kelly Services®, with a Supplier Excellence Award at an event in London, United Kingdom.
The award is presented to top-performing national and global suppliers that provide superior workforce solutions, and whose service, results and strategic partnerships have made a significant impact on KellyOCG's business.
"This award program helps to further strengthen our supplier partnerships with companies such as CK Group that offer diverse delivery models and capabilities to meet the unique talent requirements of our broad customer base," said Thorsten Koletschka, supplier strategy and engagement lead, Global Talent Supply Chain Organization for KellyOCG. "It's important to recognize the top performers in our supplier community and the impact our partnership with CK Group has on lives of workers."
This year, KellyOCG recognized 31 of its top suppliers from Europe, the United States and Asia Pacific. More than half of the award recipients were diverse suppliers.
Suppliers are evaluated on three criteria:
Scorecard results of their performance within KellyOCG-managed programs
Compliance with legal and program-specific requirements
Engagement survey results from KellyOCG stakeholders assessing the ease of doing business with the supplier and the supplier's partnership approach.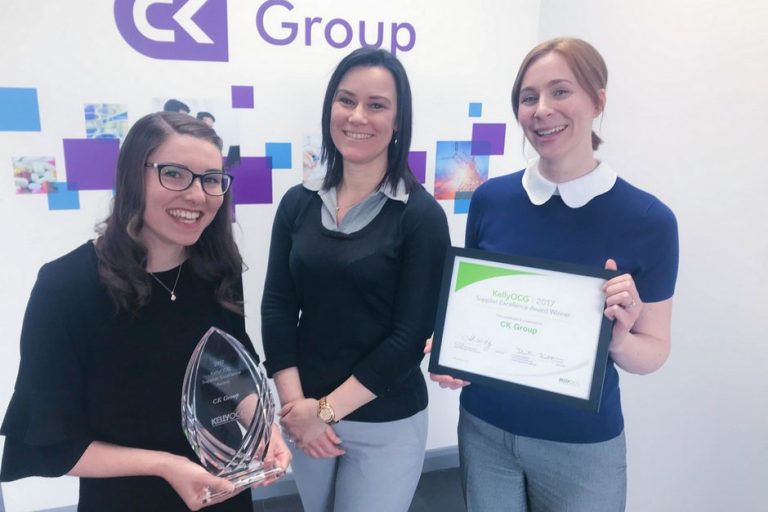 Operations Director Liam O'Connell and Key Account Manager Hannah Oakley of the CK Group attended the ceremony and were very pleased to receive the award.
Liam said "We are delighted to have received an award from KellyOCG for Supplier Excellence at their recent London Summit and feel that this is reward for the effort and skills of the CK Account Management team is supporting the Kelly programs throughout Europe.
The CK Group have worked on KellyOCG life science programs since 2009 and have built a strong and professional relationship with them to ensure that both clients and candidates receive the best possible recruitment experience. We look forward to further developing this working relationship for the mutual benefit of all parties over the forthcoming year".