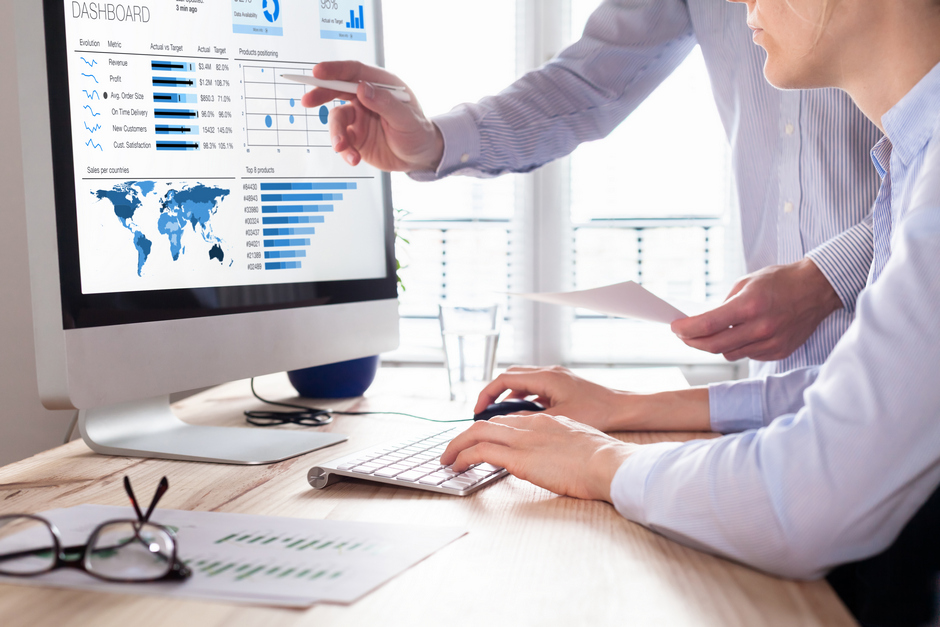 What does a data analyst do?
A data analyst is responsible for collecting, analysing and interpreting data in order to produce a set of insights that are useful to organisations. The information they produce helps businesses make important decisions through the identification of trends.
Data analyst job description
They are required to work across a wide variety of industries, including medicine, science, finance and business. This means that exact responsibilities can differ greatly, however, as a general rule they will:
Identify areas within the business that can be made more efficient or improved
Collaborate with team members in order to collect and analyse important data
Design and carry out surveys
Structure large data sets to find patterns and actionable insights that are relevant to business objectives
Use graphs, infographics and other methods to visualise the collected data
Create reports for internal teams and external clients or stakeholders
Establish KPIs to measure the effectiveness of business decisions
Monitor data quality
Types of employers
Data analysts can work within many different types of organisations, including:
Pharmaceutical and biotechnology companies
Healthcare organisations
Medical device and diagnostics companies
IT companies
Consultancies
To find out who's hiring right now, search data analyst jobs here.
Qualifications and experience required
Whilst you may not be required to hold a degree, it can be beneficial during the application process and relevant degree subjects include statistics, mathematics or economics. Postgraduate degrees in data science are becoming increasingly common amongst graduates as they are helpful for developing important skills in analysis. Alternatively, there are a range of short courses offered by universities.
In terms of work experience, you may be at an advantage over other job applicants if you have gained experience through an internship, summer job or university placement year. This will help to not only demonstrate your interest in the industry, but also give you an insight into how companies work and allow you to build a useful network of contacts. If this is something you are unable to do, many large companies offer entry-level roles and graduate schemes that provide full training and development opportunities.
Download CV and cover letter templates for an effective application here.
How to become a data analyst
To become a data analyst, you will be required to have a range of skills, including:
Analytical and problem-solving skills
Attention to detail
The ability to handle large amounts of information
IT skills
Familiarity with data analysis techniques
Along with these basic skills, you will need to have good working knowledge of data cleansing, modelling and enrichment techniques, as well as experience with analysis applications (as well as the fundamentals such as Microsoft Excel and Google Analytics). Whilst companies are likely to offer training within entry-level jobs, you should be familiar with software packages like Tableau or Power BI.
Within an interview you are likely to be asked questions that explore your ability to produce graphical representations and data visualisations, and your familiarity with industry-specific databases. An example of a question could be "what is data cleansing and what are the best ways to practice this?" or "what should a data analyst do with missing or suspected data?". An employer may also want to know about the challenges you have faced within a previous role, as well as how you overcame them to complete your work. You should always use the STAR technique when answering interview questions, which you can find out more about here.
Sign up to CK+ to apply for roles at the click of a button and receive job alerts straight to your inbox here.
Salary expectations
The starting salary for data analyst roles is usually between £23,000 and £25,000, although this can vary depending on the type of company and location of the job. With some experience under your belt, this can rise to an average of between £32,000 and £36,000.
You may be able to earn more as a freelancer or contractor.
Career progression
There are a variety of career progression opportunities, such as:
Progression into a more senior role that takes on a higher level of responsibility and the opportunity to manage teams
A move into a different industry using the transferrable skills gained
A move into a different area of the business such as customer experience or quality assurance
Becoming a freelance or contract worker
Related jobs
Technical Writer – responsible for using their technical knowledge to write specialist information about products and services, how they work or how to use them.
Software Engineer – responsible for using scientific and mathematical knowledge to develop, build and maintain computer systems or applications.
IT Technical Support Engineer – responsible for monitoring and maintaining a company's hardware and software systems.