On Thursday 13th August CK Science were honoured to award Vithusa Varnakulasingam from University of Sunderland for being the best performing student at her Industrial Placement in 2014. As sponsors of the award, we were pleased to be able to present and award Vithusa's achievements with a certificate and cheque.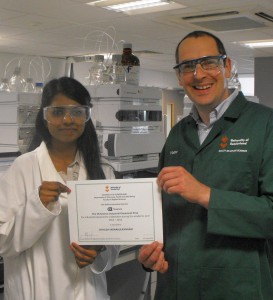 Vithusa worked as an Analytical Chemist for Covance in Harrogate for 13 months, extended due to the value she added to the department, Vithusa excelled due to her love of lab work.
Praising her course, she said "The course at University of Sunderland has been perfect for me as it has given me broad science training, and the volume of lab work available gave me skills and knowledge which I was able to apply during my placement. This alongside the support given by the faculty, and the interview and cv training supplied by Barney at CK Science, has given all of us on the course the very best head start to either find our first job, or continue academically."
Vithusa has a bright future ahead having graduated with a 1st Class degree and further awards for best student over the entire course programme / best final year analysis; she plans to do an MSc or PhD in either drug chemistry or biopharmaceutical formulations.
CK Science have been supporters of University of Sunderland for many years, having recognised their ability to teach young people industry relevant skills and provide the UK recruitment market with employable graduates. Their commitment to the Industrial Placement Programme ensures they maintain strong links with industry, giving them insight to future skills requirements. This dedication supports the university's overall aim to be an innovative, accessible and inspirational university to students across the world.